One Hike Changed Everything
---
"I felt an immediate connection and deep love for this place."
The best things in life are often those we can't plan for. In 2016, I was based in Boulder, working as a chef,  living a life I was grateful for. And then, I received one of those calls that would end up changing everything. 
My brother-in-law had inherited a small cabin and asked me to check it out to see if was worth keeping or better off selling. His father had built the cabin on Mount Hayden in the 1980s using traditional methods– felling, cleaning, hauling, booming the logs by hand. He lived in Texas and would visit his mountain retreat as often as possible, but eventually fell ill and couldn't return. That's when a local few hippy squatters took up residence in the summers and took care of the cabin and property.
Being from Texas, I'm not sure my brother-in-law understood the intensity of that request in winter. I embarked on the six hour road trip, and then skied in the 2 miles as it was (and is) the only way to access the property during the winter.
I felt an immediate connection and deep love for this place the first time I made my way through the clearing. It was a visceral response; a lightning strike moment felt through my soul. The cabin sat buried in the purest snow at 11,100 feet above anything familiar, surrounded by silence and the alpine wilderness. Untouched for two decades, it showed promise and opportunity. I knew this had to be my home.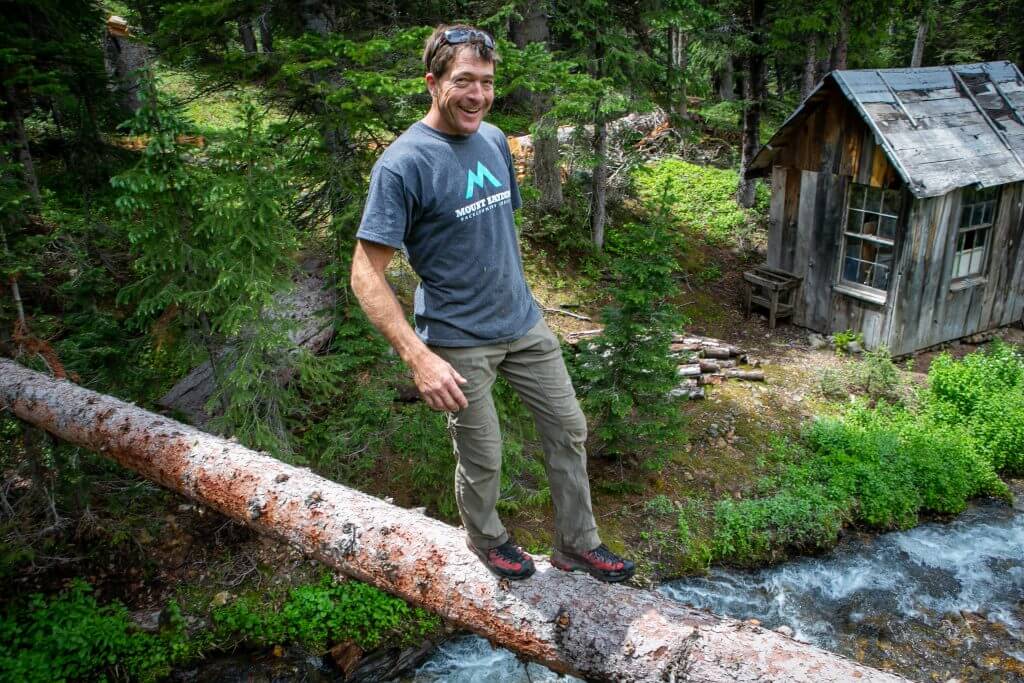 With plenty of time to think on my trek back down the mountain, I decided to create a European-style, full-service backcountry lodge. I spent the next six months doing my due diligence to learn about permits and codes to see if something like this could really fly in the high country. Then Ouray County gave  the clearance needed. 
It was totally insane, but never had anything felt more right. I bought the property from my brother-in-law, quit my job, sold my house, and moved to the cabin. In doing so, I've become the first year-round resident up here since the mining boom 100 years ago. 
I spent the summer of 2017 roughing it in an outfitter's tent while I renovated the cabin so it would be ready to live in full-time by winter. Since then, I've been hard at work building the Mount Hayden Backcountry Lodge, a rustic yet refined 18-person destination deep in the San Juan Mountains to reality. 
I've spent my entire life recreating in the mountains, always working in hospitality, and this venture feels like a calling. It's the perfect marriage of  sharing everything I love with old and many new friends. I can't wait to share it with you.
— Eric Johnson