The Mount Hayden Backcountry Lodge Story
---
"I felt an immediate connection and deep love for this place the first time I walked through the clearing. It was a visceral response, a lightning-strike moment felt through my soul. The cabin sat buried in the purest snow at 11,100 feet above anything familiar, surrounded by silence and the alpine wilderness. Untouched for two decades, it showed promise and opportunity. I knew this had to be my home."
Our Values
Adventure
Approachability
Comfort
Harmony
Reverence
Our Purpose
Creating off-grid experiences for humanity to be.
The Lodge Found Me
The best things in life are often those we can't plan for. In 2016, I was based in Boulder, working as a chef and living a life for which I was grateful each day. And then, I received one of those calls that would change everything. 
My brother-in-law had inherited a small cabin. His father had built the cabin on Mount Hayden in the 1980s using traditional methods– felling, cleaning, hauling, and booming the logs by hand. His father lived in Texas and would visit his mountain retreat as often as possible, but eventually fell ill and couldn't return. That's when a local few hippy squatters took up residence in the summers and took care of the cabin and property.
My brother-in-law asked me to check it out to see if was worth keeping or if he would be better off selling. I'm not sure whether he understood the intensity of that request, as it was mid-winter. But I obliged.
I embarked on the six-hour road trip and then skied in the 2 miles as it was (and is) the only way to access the property during the winter.
With plenty of time to think on my trek back down the mountain, I decided my fate. I would create a European-style, full-service backcountry lodge to serve the Ouray area. I spent the next six months doing my due diligence to learn about permits and codes to see if something like this could really fly in the high country. Then Ouray County gave me the clearance I needed. 
It was totally insane, but never had anything felt more right. I bought the property from my brother-in-law, quit my job, sold my house, and moved to the cabin. In doing so, I've become the first year-round resident up here since the mining boom 100 years ago. 
I spent the summer of 2017 roughing it in an outfitter's tent while I renovated the cabin so it would be ready to live in full-time by winter. Since then, I've been hard at work building the Mount Hayden Backcountry Lodge, a rustic yet refined 18-person destination deep in the San Juan Mountains to reality. 
I've spent my entire life recreating in the mountains, always working in hospitality, and this venture feels like a calling. It's the perfect way to bring together everything I love with old and many new friends. I can't wait to share it with you.
— Eric Johnson, Owner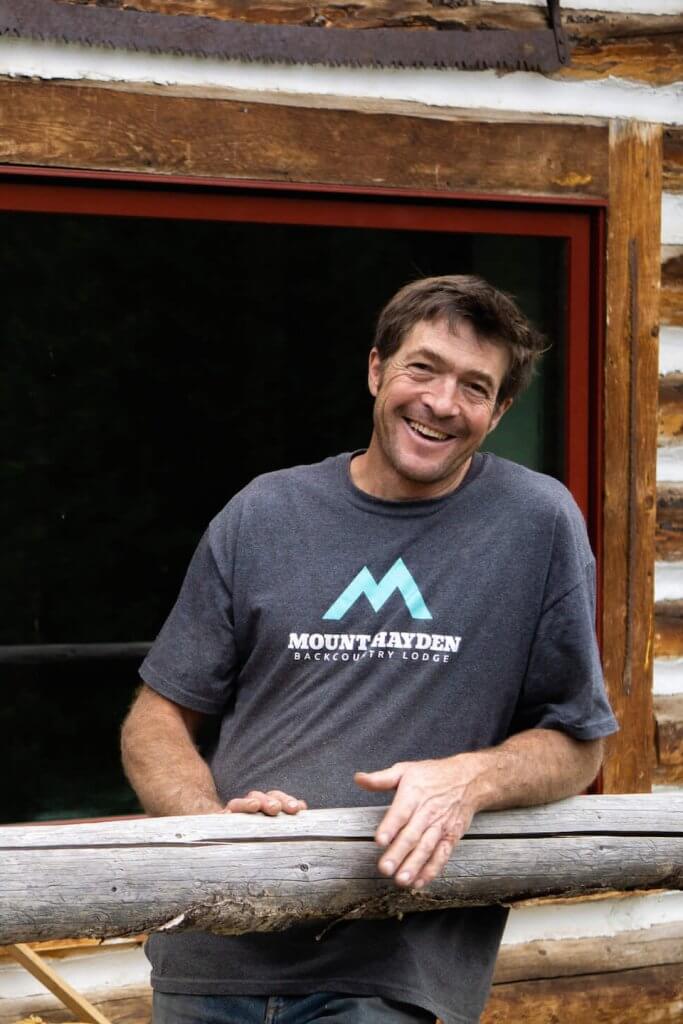 Eric Johnson
Owner, Host, Chef
Eric served as Chef de Cuisine in the famed Flagstaff House Restaurant in Boulder, Colorado, before transforming a remote, single-room cabin in the San Juan Mountains into Mount Hayden Backcountry Lodge, an eco-friendly, full-service, European-style backcountry lodge in Ouray, Colorado, that serves adventurous families, community members, solitude seekers, and avid backcountry hikers and skiers as well as hosts corporate events, weddings, and retreats. Eric's mission is to create an inclusive community space with a small eco-footprint for all to enjoy.
Eric creates memorable backcountry experiences and, as a classically-trained and highly esteemed chef, is proud to serve his guests nature-inspired, farm-to-table cuisine on a daily basis.
With nearly three decades of experience in cooking and serving heartwarming dishes in Washington, D.C., Jackson Hole, Wyoming, and Boulder, Colorado, Eric is passionate about working with the finest local seasonal ingredients to execute high cuisine.
Eric's pride and joy is the Mount Hayden Backcountry Kitchen, where he constructed a professional six-burner range, oversized sink, and oak cabinetry with an open and outward-facing basalt countertop to invite guests to saddle up and chat while he prepares their dishes.
An aspiring yogi who is committed to a low carbon footprint, Eric begins his year of wood-gathering every spring as he fells dead trees and splits wood to heat the lodge's American-made cast ironwood stove. The lodge runs on solar power, and Eric has plans to remove propane completely.
His love and care for warm, inviting spaces and company make every moment in the backcountry an exercise in beauty. Eric loves to fill the air with the aroma and anticipation of a satisfying meal and good conversation and is passionate about extending this invitation to community youth groups and nonprofits in Colorado.
Eric attended the California Culinary Academy of San Francisco and received numerous accolades and positive reviews for his restaurant in Denver, The Curtis Club, and Ouray's Mt. Hayden Backcountry Lodge. He spends his free time with his partner, Julie, chasing his "Summit Fever" and exploring the mountains through climbing, skiing, and mountaineering. His favorite foods are caviar, oyster, and foie gras, and while he loves peanut butter, the thought or smell of it before noon is a no-go. When you visit the Lodge, be sure to give a friendly cuddle to Eric and Julie's beloved House Pup, Bree, who has skied every line more times than any guest ever will, and the Lodge's House-Mouser, Rey Skywalker.
Julie Peterson
Sometimes Co-Host
NAMA (National Ayurvedic Medical Association) Professional Member
Julie is a professional Ayurvedic practitioner who works alongside Eric and their team to deliver deeply restful and holistic experiences for each guest at the Lodge.
As the Founder of Singing Spring Botanicals, Julie shares handcrafted botanical products, Ayurvedic classes, herb walks, and wildcrafting classes to Mount Hayden Backcountry Lodge guests.
Julie's father knew quite a lot about edible wild plants, laughing as he turned Julie and her sister into chokecherries and made spruce-tip tea for the girls on their backpacking trips. Her father was Julie's first inspiration, showing her that the great outdoors held tremendous magic.
While attending college in Durango, Julie was influenced and inspired by a host of holistic practitioners, the Deep Ecology movement, Permaculture, and sustainable living. Something inside wanted to connect the dots between the health of natural systems and the health of human beings. Herbs seemed to be a bridge, and learning about them would water the seed of her growing curiosity.
Julie moved from the San Juan Mountains to the city of Boulder, Colorado, where she studied at the Rocky Mountain Center for Botanical Studies (RMCBS), now the Colorado School of Clinical Herbalism. At RMCBS, she had the good fortune to learn from some of the country's most accomplished herbalists, including Paul Bergner, Feather Jones, Matthew Becker, Brigitte Mars, Susan Weed, and many others. She was introduced to Ayurveda by Dr. Alakanada Ma and Candis Cantin. After completing two years of programming, Julie began creating herbal remedies in earnest. Her love of this lifestyle led her to found Singing Springs Botanicals in 2003.
Seven years later, life circumstances had Julie searching deeper for answers and a more systematic approach to holistic healing. She was drawn to study Ayurveda in depth, leading her to The Ayurvedic Institute in New Mexico to learn from Dr. Vasant Lad and Claudia Welch. After completing their Ayurvedic Studies program, Julie went to India to study with various Ayurvedic doctors and pharmacists and completed a pharmacy program at Greens Ayurveda in Kerala.
Her journey with healing and plant-based medicine, and the ancient ways of Ayurveda continues to this day, and the San Juan Mountains are once again the perfect place for these pursuits.
Julie loves spending time wandering in wild places, wildcrafting, and creating medicines that nourish her body, mind, and soul. She passionately shares the exceptional options for self-care that do not harm the planet we all cherish.
Bree House Pup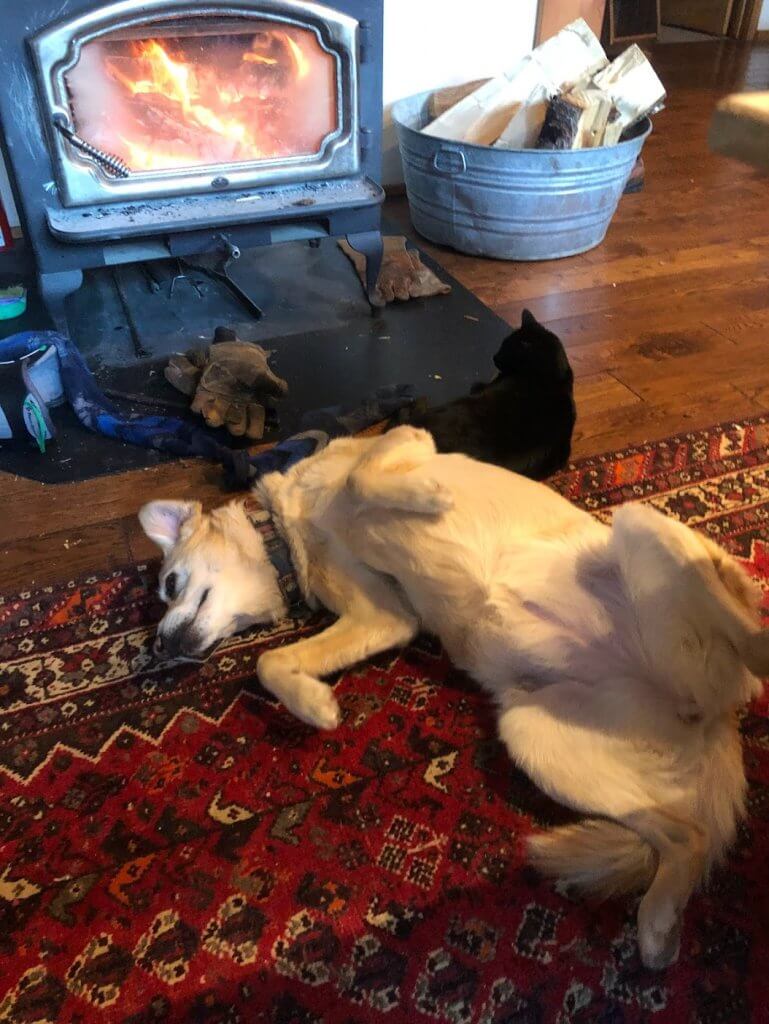 Our twelve-year-old house pup, Bree, is a friendly, adventurous, and calming presence at the lodge. She's skied every line at least five times more than any guest ever will, and is always more than happy to show you the way.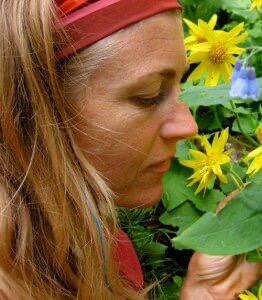 ---