---
How Homesteading Fosters Connection to Nature and People
Remember the fable about the grasshopper who spent the summer singing and dancing while the ant focused on storing food for the winter? Things don't work out too well for the grasshopper, while the ant has everything he needs for a perfectly lovely winter. That ant was a master homesteader, and he taught us well.
The hallmarks of homesteading are self-sufficiency, simplicity, and sustainability—which are the very values that inspired chef/owner Eric Johnson to leave behind his home and career in Boulder, CO to build Mount Hayden Backcountry Lodge in the San Juan Mountains of Colorado. He first visited the property in 2016 as a favor to his brother-in-law, who had just inherited the small run-down cabin that stood there at the time. This favor changed everything.
"I felt an immediate connection and deep love for this place the first time I walked through the clearing. It was a visceral response, a lightning-strike moment felt through my soul. The cabin sat buried in the purest snow at 11,100 feet above anything familiar, surrounded by silence and the alpine wilderness. Untouched for two decades, it showed promise and opportunity. I knew this had to be my home." –Eric Johnson
When Eric bought the property from his brother-in-law, quit his job, and moved to that little cabin, he became the first full-time resident of the area since the mining boom 100 years prior. He knew that to fulfill his new dream of turning this slice of wilderness into a rustic backcountry retreat, he'd need to channel his inner homesteading ant and learn to live off the land.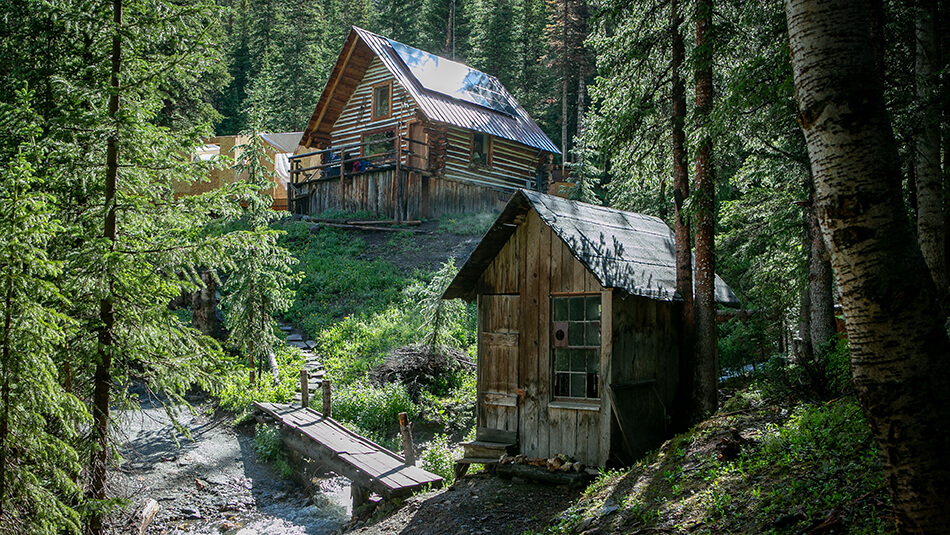 Homesteading at Mount Hayden Backcountry Lodge
It's hard work to prepare 7-9 months of provisions in just a few months, but it's also absolutely essential. Once the snow starts flying in the backcountry, everything from travel to procuring food to gathering firewood becomes much more challenging. If you've prepared as well as that industrious ant, though, you can spend the winter feeling connected to your people, your land, and yourself rather than worrying about what you'll eat and how you'll stay warm.
At Mount Hayden Backcountry Lodge, we want our guests to feel that same level of connection—to nature, themselves, and their loved ones—but without all the work. We want you to drop your agenda and relax when you get here. We want you to feel that same deep love and connection that Eric felt the very first time he walked through the clearing. That's why we spend the summer and fall homesteading on your behalf. We work like the ant, so you can party like the grasshopper (with a much happier ending).
Here are four ways we practice the self-sufficiency, sustainability, and simplicity of homesteaders to make sure you have everything you need to enjoy your stay in the backcountry this winter: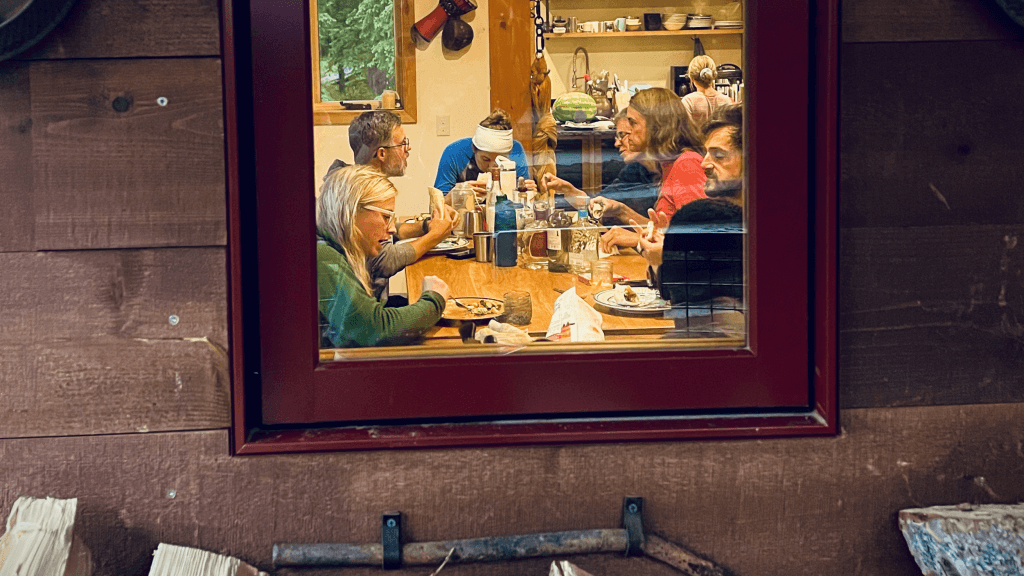 Food Storage We spend the late summer/early fall taking in summer's bounty and bottling it up for the winter. We prepare homemade jams, pickles, and bottled fruits right here in our kitchen and store them for our guests to enjoy throughout the winter.
Stockpiling Firewood Keeping you warm is one of our top priorities in the winter, and we use a wood-fired stove to heat the lodge. We spend the warmer months cutting, splitting, and stacking firewood to ensure we have enough to last through the winter.
Hunting In October, chef/owner Eric Johnson hunts for elk, hiking the kill back to the lodge for butchering and preserving. This elk will be used throughout the winter for stews, curries, and other mouthwatering dishes.
Sustainable Practices A key element of homesteading is environmental stewardship, which fosters the deep connection we feel to the land we inhabit. We practice that stewardship by generating carbon-free electricity with solar panels, conserving water, and reducing our reliance on outside resources for food and supplies as much as possible.
We invite you to stay with us this fall to see our homesteading efforts up close or book a trip this winter to enjoy the literal and figurative fruits of our labor. Warm beds, good food, and unlimited connection await.
---